From: EPractize Labs Software,

Dear internet marketer,

We are introducing our secret tool that Increase your traffic in just a week!.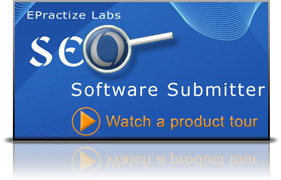 Ad/Video Submitter is professionally built to attract web traffic with your promotional videos to video broadcasting sites or free ads to classified sites.
EPractize Labs Ad/Video Submission Software manages free ad classified submission and video submission.
On-page Optimization
CMS HTML and Text Editor to edit directly from your website FTP folder. Keyword editor for Title, Meta, Image and Href tags with step by step instructions.
Registration wizard
Easy registration by registration wizard. Product will automatically fill the values and maintains login info.
Submission Wizard
One click submission by submission wizard. Easy to communicate by email follow-up wizard.
Submission Reports
Reports with screenshots can be generated. Ad/Video submission status reports and statistics (screenshot and date information with the listings of your ad/video on each site submitted.
Free Upgrade
Our free ad/video submission database grows on a daily basis. We constantly update our database to remove from the submission list all sites that are either obsolete or not do not correspond to our standards.
Customer Support
FREE technical support, FREE lifetime upgrade
After successful launch of skill development and skill evaluation products, EPractize Labs wanted to focus on business solutions to make their life simpler for Internet product marketing.
The team started looking at the market for solutions. As many of them did not match their expectations, the R&D team started creating their own solutions for SEO and Email Marketing.
These solutions were found to be very powerful in their usage that led to the success of the organization. So EPractize Labs decided to release those products into the market to cater those who are looking out for similar solutions.